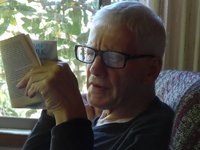 Graham Sawbridge
17th November 2017
at Karinya PCU, Berry
Late of Hyams Beach
Formerly of England
"Beloved Man. You asked for so little in life. You emptied your pockets to whoever asked. Your passions were for the characters/friends along your bookshelves; great jazz musicians recorded on CDs; your excellent cuisine accompanied by a good Shiraz. Many hundreds of plants were planted and nurtured by you. Honesty and integrity were your way. A tribute to your mum (Norah) and dad (Joseph), aunts and uncles, brothers and sister, friends. As your friend and travel companion the privilege is unreservedly mine. Deeply loved. "
Aged 78 years
Graham's funeral service will be held at
The Chapel, Shoalhaven Memorial Gardens, Worrigee on
Monday 4th December 2017 at 10:00am
Relatives and friends are invited to attend.