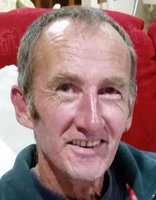 Gary Keith "Gazza" Hodges
2nd November 2019
Late of Bomaderry
Beloved Brother and Brother in-law of Jeff & Sue, Ken, Allan & Joy, and Tanya
A loving son, uncle, cousin, friend and mate to many.
'Fondly Remembered'
Aged 62 years
Gary's funeral service will be held in The Chapel,
Shoalhaven Memorial Gardens,
Worrigee Road, Worrigee
On Thursday 7th November 2019 at 3.00pm
Relatives and friends are invited to attend.
In lieu of flowers donations can be made at the service for Kids with Cancer.